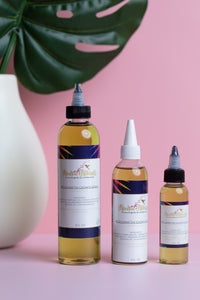 #EdgesMatter Growth Serum
This natural formula prevents free-radical damage and strengthens hair, roots, and scalp. Stimulating essential oils boost circulation and hair follicle growth. Suitable for all hair types, it's great for thinning hair, hair loss (in early stages), and sensitive scalps. Not just your edges--#EdgesMatter!
Ingredients:
Castor Oil
Grape seed Oil
Black seed oil 
Rosemary
Peppermint
Tea tree essential oil
Pure Moringa Oil
How To Use: 
For optimal results, apply the serum on a daily basis or 3-4 times weekly; apply the serum either post-shower or prior to sleep, and allow it to remain on the skin.
---
We Also Recommend