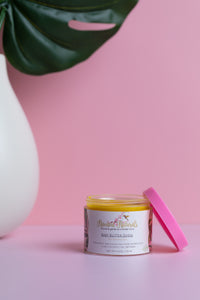 Baby Butter
 Our Baby Butter Formulas provide great protection for baby eczema, cradle cap, diaper rash, and daily moisturizing needs. Our natural ingredients gently soothe the itching and dryness caused by eczema in infants. Baby Butter is formulated with natural, nourishing ingredients that leave baby's skin feeling soft and comfortable. Comes in a 4oz clear acrylic jar.
 Ingredients:
Raw Shea Butter OR Mango Butter
Pure Coconut oil
Beeswax 
Apply a dime-sized quantity to irritated or dehydrated skin and scalp areas. Our butters are highly concentrated, so minimal amounts can produce the desired results.
---
We Also Recommend